Hitting the Big Time: Herman, Shaw, Getz and Marriage     page 1 | page 2 | page 3 | page 4 | page 5 | page 6 | page 7 | page 8| page 9|
With the Wald band and solid gig experience under his belt, as well as word-of-mouth recommendations from fellow musicians, Jimmy became a part of one of the biggest swing bands in the country. In 1948, he joined the Woody Herman band, at that time known as "The Second Herd". The band included the notable "Four Brothers" sax section: Zoot Sims, Herbie Steward, Serge Chaloff, and Stan Getz. Ralph Burns and saxophonist Al Cohn were arrangers for the band. Getz gained notoriety for his solo on "Early Autumn" which helped his career as well as Jimmy who would later join Getz's groundbreaking quintet.
Jimmy was happy with being in a major big band, but he began to feel restless with having few solos and playing mostly rhythm guitar. Nevertheless, Jimmy practiced a ton and band mates often noted this. He was rapidly becoming a new voice for bebop guitar. He would take his first trip to the studio in 1948 with Al Haig and Stan Getz. They recorded 4 tunes, with trendy names, "As I Live in Bop", "Interlude in Bebop", Pardon My Bop" and "Diaper Pin" which was a blowing vehicle over the tune "That Old Black Magic". Jimmy describes the date as well as his early experiences with Getz in this radio interview with Phil Bailey. Although clearly he was phrasing with some of the licks picked up from Parker and Powell, you could still detect the strong Charlie Christian influence in his approach as well.
Jimmy would get the opportunity to play out when he joined the equally noted Artie Shaw band, and later, the next incarnation of his small group, the Gramercy Five in 1949 (the original group from 1945 had Barney Kessel).
Artie was a forward thinking player. Although not a bebopper per se, he still could manage the style and enjoyed having young beboppers in his band as well as some of the best arrangers, such as Al Cohn and Johnny Mandel. The public, however, was not as appreciative of Artie's powerhouse bebop band and arrangements. They preferred his trademark swing style typified by "Begin the Beguine" (an early hit for him in 1938). His disgust with the public's reaction against this great band was part of his growing cynicism against the music business which eventually led to Shaw's early retirement in 1954. Regardless, Jimmy's bebop voice at this point was becoming clearer and approaching what would be his influential style during the 1950's. Go to this page for a sampling of Jimmy's playing in 1949 with Artie's Shaw's Gramercy 5.
During this time, Jimmy recorded with Harry Belafonte. Jimmy also made his curious debut as a scat vocalist with Blossom Dearie on an Al Haig date. But after the record producer talked him into it, he was mortified at the resulting record and vowed never to do such a thing again. This non-commercialist streak would stay with him for the rest of his career (Creed Taylor would later try to convince him to do a Montgomery soft rock style record when he was with Paramount, but Jimmy refused).
Although Jimmy played and recorded with Stan Getz earlier, he didn't officially join his band until late 1950 after finishing up with Artie Shaw's bands and cutting a few more records. The most famous capturing of the Stan Getz-Jimmy Raney collaborations were the Live at Storyville Records from 1951. The group included two veterans of the Charlie Parker Quintet, Al Haig on piano and Teddy Kotick on bass. Both were favorites of Parker. The amazing Tiny Kahn was the drummer who had he lived longer (he died shortly after in 1953), might've been one of the more influential jazz drummers in jazz (Elvin Jones is rumored to have listened to his recordings). They were released on 10 inch LPs fairly soon after Stan finished his contract with Roost. The Stan Getz Quintet was one of the most noted jazz groups around and many fellow musicians, such as Sonny Rollins and John Coltrane, have expressed their admiration for the Getz Quintet and the Getz-Raney collaboration. The band was unique for a number of reasons. Firstly, since Al Haig was a superb accompanist, Jimmy's role was essentially the role of a horn. The group introduced an entirely new sound built around Jimmy's superb counterpoint to Stan's leading lines. With Stan's unparalleled ears, he was soon interacting with Jimmy in the same contrapuntal fashion, blending seamlessly. Another aspect was the musicianship. As Jimmy recalled,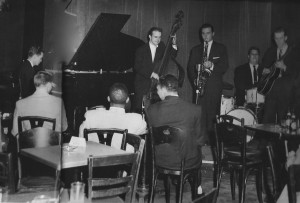 And the only guitarist that could pull off Stan's tempos and play solos was Jimmy who conceded scuffling sometimes.Parker 51 – Jimmy Raney solo . For fans and musicians alike who had assumed Stan was merely a "pretty player," his work on the up-tempo numbers such as "Mosquito Knees" and Jimmy's breakneck "Parker 51″ was a real eye opener. There are two other known recordings of the band. One from Carnegie Hall and the other released as the Birdland Sessions 1952 Featuring Jimmy Raney about 30 years after. On the latter session, Jimmy's playing may be superior to that of the Storyville Sessions. Jimmy commented that he felt as much. Go to the transcription page to see/hear Jimmy's burning solo on "The Song is You". Also notable on those sessions was the presence of future jazz icons Connie Kay, Charles Mingus and Horace Silver, who at 24 was the junior member of the quintet. Pianist, Duke Jordan and drummer Phil Brown (a largely unknown and underrated drummer) were also on those sessions on different dates.
The next generation of the Raney family began during this era. My mother, the late Lee Raney (formerly Esterlee Hirsch, and featured in photo at the lower left, seated for Red Norvo trio '53 engagement) was a jazz fan. She lived in upper Manhattan and would frequent 52nd St. clubs and take in the jazz bands appearing there, including on one night, the Stan Getz Quintet. The story goes that my father saw my mother in the audience and told Stan, "You see that gal right there? I'm going to marry her". Stan, who was noted as having a knack with the ladies facilitated the encounter, introducing himself and telling my mother that his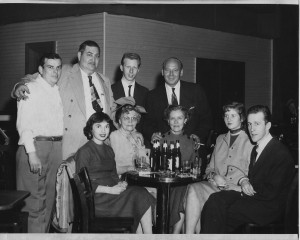 band mate, Jimmy, wanted to meet her. They met, fell in love and that was that. They were married after just three months of courtship in 1952. They took an apartment in Sheridan Square in the heart of the village. Jimmy was living the good life. While married to a beautiful lady after a whirlwind romance, he took up painting. He also befriended the abstract expressionist Ray Parker and hobnobbed with other noted artists such as Willem de Kooning. Dad related a funny story about Willem when he met him at a "jazz party". Willem was sort of used to being a big celebrity, but this was somewhat neutralized in a party with equal notable artists from another field. My father knew who he was but played it coy when Willem approached him and said, "You know, in the art world, I'm like Charlie Parker". My father then chimed in "Oh I know who you are, you're Bill de Kooning the painter, I'm very familiar with your work…" This acknowledgement put de Kooning's ego at ease and they chatted away happily afterward. Jimmy also began studying composition with Hall Overton. As a Julliard teacher and legitimate composer, Hall Overton was a mentor to many jazz musicians and was the famed arranger behind Thelonious Monk's Town Hall material for a nonet. Our families were close. Lee and Nancy Overton became close friends. Nancy was a vocalist with the Chordettes (Famous for"Mr. Sandman") and their son is actor and comedian Rick Overton and he and Doug were good friends. (I have a "kids in the bathtub" pic of Doug and Rick but someone would probably kill me if I put it up…)
| page 1 | page 2 | page 3 | page 4 | page 5 | page 6 | page 7 | page 8| page 9|