Happy Birthday Jimmy Raney – 2013
August 20th is Jimmy Raney's birthday. Although I've largely given up on how and why Jimmy's true stature has been largely minimized in the jazz community, I can't help but be reminded of this around his birthday. Where is his radio retrospective on NYC jazz radio stations? Or a couple of tracks at least?
For my part I would have to admit that being Jimmy Raney's chief spokesman here is proving more and more challenging for me because of changes in my personal/business life but I will try to do a better job of it since it is important to keep the flag flying in the Raney Camp given the message is not getting out there. I would also like to thank those people who have written me personally and still take the time to drop a note to talk or comment about Jimmy or Doug despite the recent lack of activity here.
So today, I offer up a little bit of value and penance to Dad's loyal fans in celebration of the master's birthday.
Firstly an amazing track from an out-of-print record, Strings & Swings, "Stella by Starlight".
Second, the pdf transcription of his solo is located here.

At a later date on my forum I would like to open up a discussion about the Stella solo. But for the meantime, just enjoy.
And lastly a wonderful photograph with Dad and his good buddy and fellow amazing guitarist, Jim Hall, jamming. This took place in our apartment. I don't recall a date on it. My guess is 1960. Though really don't know since Jim Hall looked absolutely the same for years.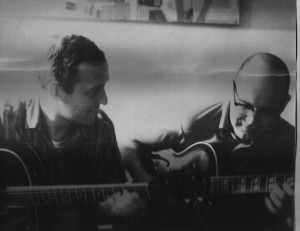 Happy Birthday, Dad. You're still the best.