Leaving Getz, Norvo, Europe and Best Jazz Guitarist    page 1 | page 2 | page 3 | page 4 | page 5 | page 6 | page 7 | page 8 | page 9|
Stan and Jimmy were lifelong friends, but playing with Stan (as many a musician will attest) was often not an easy prospect. Aside from his addictions, he had a mercurial personality. He could be very demanding on his musicians, firing them after gigs and wasn't above getting into your head on the bandstand or a session. On the last outing together as the Stan Getz Quintet for a Norman Granz '52 session, Dad and Stan had a disagreement in the middle of the session. Jim took Stan aside and gave him his notice. The session was finished without a hitch and no one was aware what had had happened until later.
Stan and Jimmy would reunite about 6 months later on Jimmy's debut record as a leader, Jimmy Raney Plays, recorded on April 23, 1953 for the Prestige label. The players were Stan, pianist/composer Hall Overton, bassist Red Mitchell and Stan's drummer, Frank Isola. For the 10 inch LP, they recorded four tunes: "Signal" (which they had played earlier in the Storyville Sessions), "Motion" (based on the changes of "You Stepped Out of a Dream" but in the key of D), Lee (a sort of dual dedication to Lee Konitz and my mother, Lee Raney) and Monk's "Round Midnite". Stan was under contract with Norman Granz and so he needed to use the pseudonym "Sven Coolson" to record. Later he (and/or the record company) was more than happy to attach his real name to the recording and even appropriate Jimmy's date under Stan's name for various re-releases.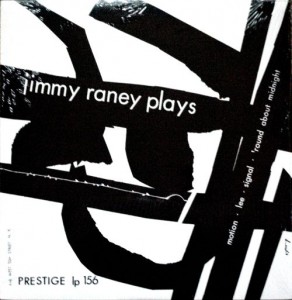 The music however was extraordinary. Hall had mentioned this recent recording of Round Midnite with Jimmy when originally introducing himself to his hero, Monk. Their version of the Monk classic, though more romantic than Monk's conception is pure magic as well as the rest of the album. Downbeat agreed and gave the album 5 stars. This was fitting end to the recorded collaboration between Getz and Raney (they would work together in '62, '79 at a Bird festival in Carnegie Hall and then again '87 in Chicago but recordings of that material is not available) The character of this record was on another level than their earlier blowing sessions, spurred by Jimmy's modern compositions. Getz was coming upon a new phase in his highly personal lyricism and Jimmy was changing the conception of jazz guitar as it had come to be reckoned. The album cover art is by Jimmy's friend, the late painter, Dave Young, whose recent claim to fame is the release of the "Dave X Young Jazz Loft" project which contained famous session music ("owned" jointly by photographer Eugene Smith) from the loft at 821 Sixth Avenue. In any case, listen to the magic of Round Midnite.Round Midnite Earlier, Jimmy had befriended the great guitarist Tal Farlow. In fact they lived in the same building with other musicians on west 93rd street, which included Sal Salvador, Phil Woods and Johnny Smith among others. Jimmy replaced Tal in the Red Norvo trio which was a popular touring band since the early fifties. Tal went on to form his own group with Eddie Costa. The first gig with Red was at The Embers in New York in 1953. The first tracks were recorded in March of 1953.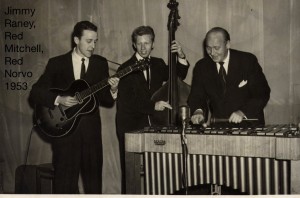 The Red Norvo Trio's style was characterized by a very tightly knit and almost chamber music sound, sometimes adding touches of modern string quartets- with pizzicato double stops from guitar and bass (highlighted in their rendition of "Everything I've Got"). Although it sounded like it was written out, a greater majority of the music was arranged on the spot. Red didn't generally write anything. One of the players would bring in a tune in with some ideas and the arrangement would grow out of collaboration and specific suggestions from each member. Jimmy felt like this was a really good way to work as sometimes, your notions of what will work can often change as you flesh out the material. Another aspect of the trio was frankly the tremendous chops of each member. Jimmy as mentioned was without peer in terms of up-tempo bebop solos on guitar. Tal Farlow could come close but wasn't quite as clean or as cogent. Red, although not a bebopper had tremendous facility on the vibes and used 4 mallet technique. And Red Mitchell was and is probably one of the most original and melodic bass soloists to ever play and he was capable of holding blistering tempos without drums (only Mingus could match him). According to the information I have, Jimmy did 4 tracks with Red Norvo and Red Mitchell the same day, April 23, 1953 that he did Jimmy Raney Plays. They have been fairly recently released on this record. It's actually a recording that I have never heard, except recently where I discovered an enthusiast's posting on Youtube of "Strike Up the Band". The tempo chosen for this tune was outrageous! At around ~354 bpm, this might be one of the fastest tempo ever played on a jazz recording at that point in time – second only to Jimmy and Stan's romp on Parker '51 which clocks in at ~360. Certainly the fastest without a drummer. I leave it to the rest of you to research that. He then toured with Red going to Toronto, the midwest, Colorado and San Francisco (see letter listing Red's CA address) in 1953. His most notable tour was however his famous one to Europe from Jan-Feb 1954 (organized by record producer, Leonard Feather) where the trio was joined up with Buddy DeFranco and Sonny Clark to accompany Billie Holiday in Mustermesse, Basil (Switzerland). You can listen to Jimmy's Solo to "Billie's Blues" here. Jimmy recorded several albums – a quintet date in Sweden with tenor saxophonist Gosta Theselius and Sonny Clark and two albums in Paris with a French rhythm section (as well as Bobby Jaspar on tenor) and the other with Mitchell, Clark and drummer Bobby White. These two albums were Jimmy's famous Jimmy Raney Visits Paris (vol 1 and 2).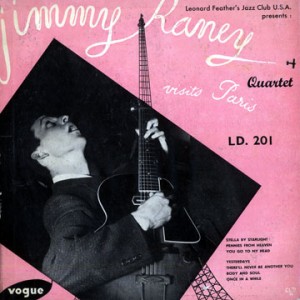 To the right was the original album cover for the Mitchell/Clark date.Jimmy's arrival in Europe and in particular, Paris, was much anticipated. According to Jimmy, Paris jazz fans were there waiting for him at the airport. Among the fans were guitarists Rene Thomas, Sacha Distel and his old friend Jimmy Gourley. Jimmy also met Attila Zoller at some point in the trip. Jimmy's recordings were already well known. He was, you might say, the "it" guy of jazz guitar. Rene Thomas describes his thoughts in Norman Mongan's book, The History of the Guitar in Jazz:
In Paris in the early 1950s, you had to play guitar like Raney, and like Stan Getz if you played tenor. Jimmy Raney was definitely an innovator harmonically. He recorded lovely tunes like "Signal", which are harmonically very intricate and refined. Jimmy brought  a new beauty and color to the guitar. Hew as widely listened to , and not only by guitarists. John Coltrane and Sonny Rollins told me the great esteem they had for him. Besides, in some of their records, you can find phrases of Raney or Getz, phrases straight out of the famous Storyville recordings made in Boston in 1951. Rollins and Coltrane were able to use the harmonic richness found on these sides, which made them what they are. Of course they went beyond this stage, but the influence of Raney and Getz, whose mutual understanding was prodigious, is still present in their harmonic conceptions. It's been said that Raney was the Lee Konitz of the guitar. It's pretty true.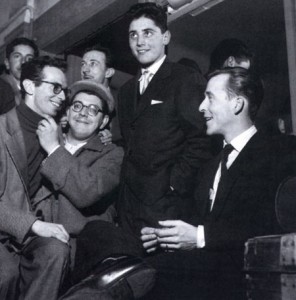 In the photo to the left are Jimmy Gourley, Rene Thomas, Sacha Distel and Jimmy Raney in Paris, 1954. To the right is a photo from the '54 Sweden session. In the photo are Jimmy and Red Mitchell, with drummer Elaine Leighton, pianist Bengt Hallberg and clarinetist Putte Wickman.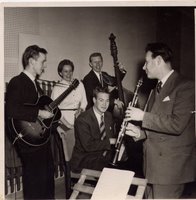 Jimmy had indeed arrived on the world's stage, had followers and recognized by Downbeat Magazine as the "World's Best Guitarist" winning the 1954 poll.
During that year he would make two more records as a leader for Prestige, Jimmy Raney Quartet and Jimmy Raney Quintet, which marked the first recording of 22-year-old saxophonist Phil Woods. Dave Brubeck's drummer, Joe Morello, was also present on the date. On the quartet recording, Jimmy utilized double tracked guitar. Although the overdub technique was certainly not new, the Bach-like contrapuntal style Jimmy employed was. This music had just as much in common with classical music as jazz. The seeds of this approach developed in his tenure with the Stan Getz Quintet and was brought to bear full force on the tunes "Minor" and "Double Image" (based on the changes to "Bernie's Tune" and "There Will Never Be Another You" respectively). So not only had Jimmy brought single note jazz lines to a high level of refinement, he had also developed techniques for having two lines meld together seamlessly. Listen to "Double Image":Double Image.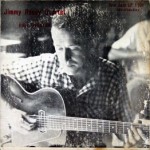 Although his fans disagree with his assessment of the results, Dad confessed a certain "stiffness" on his first few dates as a leader, his '53 debut record as well as the 1954 quartet date in particular. He felt that his most representative playing didn't happen until his album with Bob Brookmeyer in 1956. Personally I think his playing was very strong on the Quintet album with Phil Woods and in particular on this cut of "Stella by Starlight". Stella by Starlight- Jimmy Raney Solo. The Paris version of Stella done earlier in the year was greatly admired, but I find the Quintet version much more uncluttered with a sharper groove, 'digging in' harder – more characteristic of his later playing. Interestingly this is the only recorded version of the song I have heard him play on the horn-favorite key of Bb rather than the original key of G. This great solo is transcribed here. Jimmy Raney (1955) was his last album as a leader for Prestige. This record was also a strong outing for him because the jazz community recognized him again as Best Guitarist of that year in the Downbeat Jazz Poll.
| page 1 | page 2 | page 3 | page 4 | page 5 | page 6 | page 7 | page 8| page 9|