James Elbert Raney
(Aug 20, 1927 – May 10, 1995)
The Beginning Years: Childhood – Early Career     page 1 | page 2 | page 3 | page 4 | page 5 | page 6 | page 7 | page 8| page 9|
Dad was born in Louisville, Kentucky, 1927, son of Pearle Glasscock (1900-1997) and Elbert Raney (1902-1944). Elbert, my grandfather was a sportswriter for the Louisville Courier Journal and an amateur golfer.
Dad got his first guitar at age 10 and reportedly got his bearings with the help of my grandmother, who played ukulele. That I know for sure, because I used to fool around with it upstairs. I'm not sure about her having taught Jimmy guitar though, which is often quoted in his biographies.
I recall once asking her to play the uke and sing. She did the classic uke tuning singing to herself "my dog has fleas…. my dog has fleas". Then she crooned a bit with her high southern warble.
Dad soon became adept at the guitar, doing gigs at a really young age. This is quoted second-hand by Doug Raney to Glenn Hodges in 2006 for his scholarly PhD work on Jimmy Raney:

"Ola Miracle was telling me … they played together when they were kids… she was performing with her accordion… there used to be a funny picture of them together actually and a guy in front of them doing the split[s] or some shit and… she told me a story about how before my Dad showed up she had another guitar player and he was kind of a 'show-off'y' guy, you know, but my Dad played way better, you know, so this guy got really jealous and it turned into a big stink, you know, and… they were like ten years old, [or possibly] eleven and twelve years old."
He first studied with A.J. Giancola, a classical teacher, then Hayden Causey who was able to nurture his fascination with jazz guitar and his early guitar hero, Charlie Christian—the guitarist that turned Jimmy's head around with the classic "Solo Flight". Hayden was able to recommend Jimmy for the Jerry Wald Band in 1944. Jimmy joined the Wald band at the Hotel New Yorker, making his first trip to and staying for 2 months. Al Haig was the pianist in the Wald Band and was already established as one of the bebop pianists on the scene. Al mentored the younger Raney, who was still absorbing the performances of all the major players—Art Tatum, Charlie Parker, Bud Powell and Dizzy Gillespie—and gave him several records to check out. He also got a dose of how his slightly elder peers, Chuck Wayne and Barney Kessel, were straddling the transition from swing to bebop on guitar.
After seeing the music scene in New York, Dad did some serious woodshedding with Haig's recommended records, in particular Charlie Parker's. Not only did he study Parker solos, but also those by Bud Powell, Gillespie and Miles. Because he really didn't have a definitive example of bebop on guitar, he took it upon himself to translate the qualities and idiosyncrasies of each instrument to guitar. So for example on piano transcriptions, he used the pick more while on the horn solos, he used more slurs. He also found different ways to execute the same idea on different strings so that he could connect his ideas and not be locked into any particular position. His picking technique was not one exclusive method like sweep picking, alternate picking or others but rather a hybrid approach. He decided early on that if he just went for the sounds his solutions, with a little bit of patience and diligence, could be worked out organically. His goals were very modest at that point. He simply wanted to be the best bebop interpreter on guitar he could be. This was probably one of the keys to his success. He had a really good foundation in bebop's linear excellence and a great work ethic that eventually would blossom into full artistry.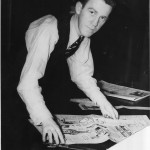 Elbert died in 1944 of tuberculosis. He was only 42 and Jimmy was 17. Jimmy having witnessed his father's death was traumatized by the event. "I saw my father in his death knell and he coughed up blood so hard it practically hit the ceiling. I just stared into space in shock and told myself it wasn't happening." Jimmy was very close to his father but had some difficulties with his mother. He moved up to Chicago and stayed with his grandmother and checked out the scene. He met and played with many of his peers in the new bebop movement, including pianist Lou Levy, saxophonists Lou Donaldson and Sonny Stitt, and guitarists Jimmy Gourley and the legendary, Ronnie Singer. He joined Max Miller's band in 1945. He joined Max Miller's band in 1945. Jimmy's humorous recollections of the experiences are expressed in this early blog post.
page 1 | page 2 | page 3 | page 4 | page 5 | page 6 | page 7| page 8| page 9|