Happy Birthday Doug Raney 2017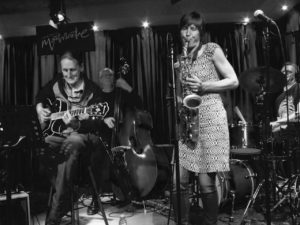 As I reflect on the loss of my brother for the second year, I have an even greater realization on how much he impacted the lives of people fortunate enough to hear him live, play with and to hang with him. As often happens, an artist impact widens after departing. This is even true from my perspective. I just didn't appreciate his impact as his brother and our unique situation as musical sons of our illustrious father. As Doug would put our "son of a legend" predicament in his New York street-tough, "I'm still trying to catch up to that motherfu@$#r".
My brother in a funny way was easier to underestimate because he was not radically different from other guitarists in his approach. It's that he did so much better than so many other guys. That time feel of his. That gorgeous tone of his, the way he laid into his phrases, and the way seemed to play as if he wasn't picking. To me many jazz guitarists in comparison to Doug can sound almost like banjo players trying to imitate the saxophone and falling short because the instrument gets in the way. So it is easy to underestimate all that goes into creating that sound that Doug would get out of this difficult instrument and that feeling in the gut you would get when he had you on the hook for his next phrase. And as he matured, that special vintage of his became even more intoxicating. During his comeback years of 2012 and 2013 he may have been playing better than he was at any time in his life. As if because of his ailing body, there was no time to lose or energy to waste other than to produce the most lovely solos he could possibly muster from his guitar.
With that wistful remembrance let me pass along some of the great music that has been shared by a friend and colleague of Doug's, Hans Backenroth from that time. We are both getting a front row seat on this as much of the music I am also hearing for the first time! The saxophonist is the inimitable Christina von Bülow also pictured above.
Love and respect my brother. I carry on with a heavy heart still.