World's Greatest Dad… T-Shirt? Cool new souvenir for jazz guitarist fans
Most sons think their Dads are the greatest. The tallest, the smartest, etc. I remember one kid I knew back in Louisville who used to say, "My day-yad is taller than 'nyone. He's six-tway-elve".  Now I remember the kid's father. Pretty tall but he wasn't Shaq, ok?  The important thing I guess was that he felt like he was.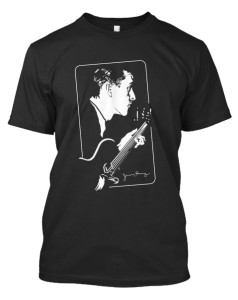 Now of course me, I always thought my Dad was the world's best guitarist, by a mile. Thing was though, he was and plenty of people, unrelated to me – from novice guitarists to his famous peers  – believed he was. Imagine that for a kid. And they still say it. Incredible. And he is probably one of the smartest guys around too (see this story I published a while back).

Now the flip-side of that is, for a son to pursue the same career as a celebrated father, that carries a lot of baggage and expectation. It was enough just trying to keep up with Dad's model in my musical pursuits. But now that I'm like 54 and pretty much committed 9-5 to another occupation, I'm like…"Fuck it" I can be a kid again. My Dad is the greatest! Let me celebrate it like the rest of his fans!
So, along those lines I'm celebrating this with a new thing hot off the presses, a Jimmy Raney t-shirt.  It is featured over there in the sidebar. The t-shirt is the brainchild of jazz guitarist and fan Paolo Casadio. He teamed up with a designer friend and is producing the Raney t-shirt though the t-shirt vendor, TeeSpring. There are also Jim Hall, Barney Kessel and Django Reinhardt t-shirts as well. When he told me about it I was like, ok, I guess we'll see this if and when it happens. But dang it, it's a reality and this thing is really cool!
The one caveat is the vendor's  minimum order threshold that has to be met so that they start sending these things to fans.
So there you have it jazz guitar fans. Cool new product out there. If you want them, here they are!
Cheers,
Jon