Happy Birthday Jimmy Raney – 2014!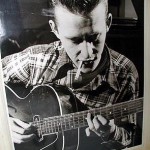 Today marks what would have been his 87th year had he lived. His birthday sneaks up on me because it's two days before mine. He is still with me all the time.

Tonight I practiced ALOT and he was there every few minutes, prompting me to play something more interesting, more inspired and less bullshitty.
Some day I'll get there.
For his birthday I'm posting a solo transcription of a personal favorite of mine from the album "Jimmy Raney: In Three Attitudes", to Jim's Tune.
Enjoy!
---

"Jim's Tune"
Jimmy Raney "In Three Attitudes" (rec: 1956)