Teddy Charles R.I.P.
Teddy Charles was a frequent collaborator and ardent supporter of Jimmy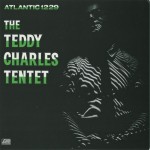 Raney in the 50s and early 60s.  They also did work together with Bob Brookmeyer who also recently just past away.  And all of them were part of the jazz loft scene in NYC.. Teddy was among the innovative thinker/composers during the day along with Mingus and Miles that  paved the way for compositional styles to come, which involved long expositional sections and interwoven improvisations.  His style I find echoed in the later work of the late Gary MacFarland. Teddy never made it big and along with many jazz players in the sixties, faded from view. He changed careers and became a ship captain but he still played local gigs . Although he didn't know this, it was a stated wish of mine to interview him about his experiences with Dad before he passed. Now unfortunately I have to live with that regret and never having met him personally.  Teddy will be missed by all. There was a retrospective on WKCR the other morning. For more information on Teddy see this article on npr site.